Event Overview
Entrepreneurs are vital architects within the U.S. economy. Our mission is to celebrate individuals who foster the entrepreneurial spirit. Orange County Celebrates Entrepreneurs (OCCE) 2020 will be an annual event to enable guests through storytelling, to gain a deep understanding of the entrepreneurial journey and its impact on our lives.
The inaugural event will be held at Cal State Fullerton on February 29, 2020. It will bring together entrepreneurs, investors, service providers, students, business leaders. To celebrate our diverse region and the innovations which have come before and are coming next. Through shared stories we will honor community members helping entrepreneurs and innovators build their own American Dream. Our goal is to help make OC a globally recognized leader in innovation and entrepreneurship and be a catalyst to moving the OC culture forward toward greater prosperity.
This event is a collaboration between UCI, Cal State Fullerton and Concordia University-Irvine.
The Journey
Since our founding, America has been continually reshaped by entrepreneurs working to advance their ideas into realities. These innovators gave us the lightbulb, the ability to travel through air and space, and the personal computer. They commercialize new technologies and pioneer new business models that keep our nation productive and growing. Year over year, they are responsible for nearly all of the net new job creation.
Our shared history of entrepreneurship has, in many ways, defined our country and the American Dream. We are grounded in the belief that individuals who exhibit an entrepreneurial spirit and have acquired entrepreneurial knowledge can add significant value to any working environment from the smallest startup to the largest business, from non-profits to government agencies. Our mission is simple—to celebrate individuals fostering the entrepreneurial spirit.
Together with Orange County's vibrant business-civic-academic community, to support job creation and economic growth, we will celebrate OC entrepreneurship. OCCE 2020 will be the inaugural event of this annual festivity.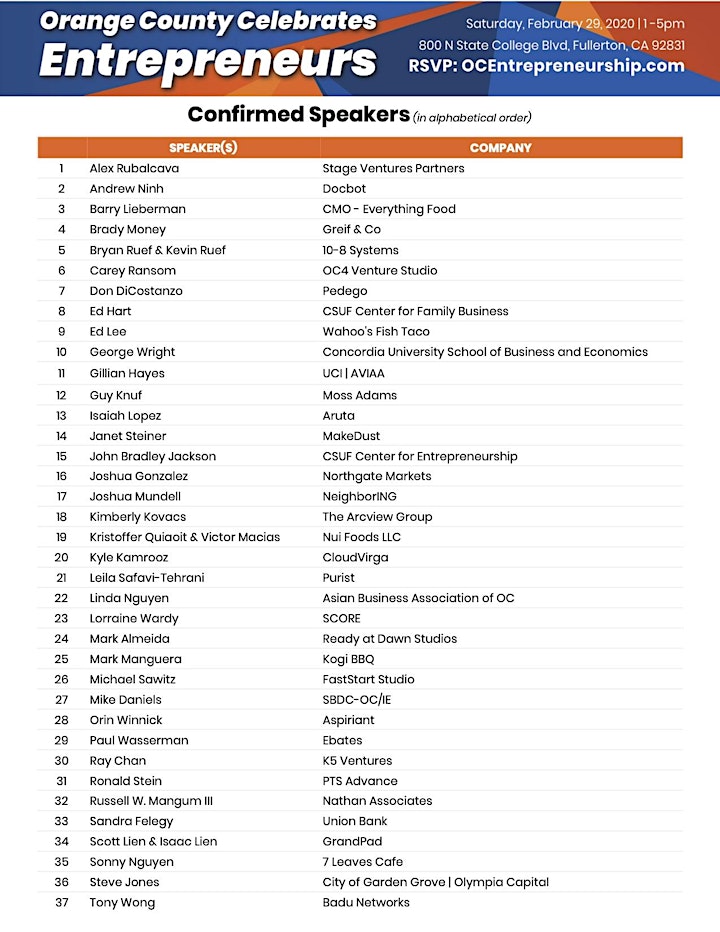 Parking
Parking is free on campus in all spots that do not require a special permit or are paid parking spots on this day. Below is a map of the campus with the appropriate location to park and where the event is located.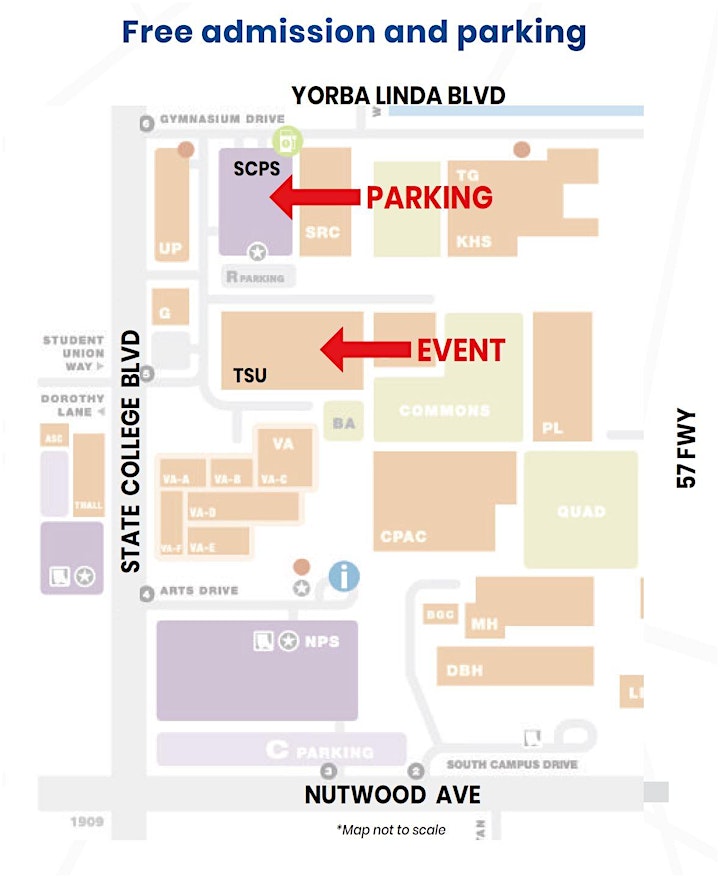 CSUF Entrepreneurship
We are dedicated to helping the next generation of entrepreneurs develop the skills that they need to compete locally and globally. The CSUF Entrepreneurship program does many things, including: consulting projects where students serve up fresh strategies to actual businesses, competitions for students from middle school to grad school, helping entrepreneurs go from concept to launch, frequent seminars and office hours for entrepreneurs and professionals, and much more. Interested in becoming a part of the CSUF Entrepreneurship community? Reach out to us at csufentrepreneurship@fullerton.edu for more information! CSUF Entrepreneurship depends on the support of the community, please go here to donate.